PA Electric & Gas Supplier
About Verde in Pennsylvania
Pennsylvania energy rates are changing. Verde energy offers both electric and gas in Pennsylvania.Verde services the following utilities – West Penn Power, Columbia Gas of Pennsylvania, Duquesne Light, Metropolotan Edison Company(METED), PECO gas and electric, Pennsylvania Electric Company(PENE), UGI Penn Natural Gas, Pennsylvania Power Company(PENN), Peoples Natural Gas PA, Pennsylvania Power and Light(PPL), UGI Central Penn Gas, UGI Utilities and Peoples Equitable Division PA.
Don't get fooled by introductory PA electric rates from PA electric suppliers that are for limited time periods. Join other smart consumers who have selected Verde Energy for 100% renewable energy. Green energy is a smart and sustainable decision that makes sense. We are proud to offer competitive electricity rates for 100% renewable energy in Pennsylvania. Simply, the right choice for you and the environment, plus it makes sense for your wallet too! There is no cost to sign up with Verde Energy and you can cancel anytime without a cancellation fee. Your Pennsylvania utility company will continue to service your account and send one electric bill.
READY TO SEE WHAT WE'RE ALL ABOUT?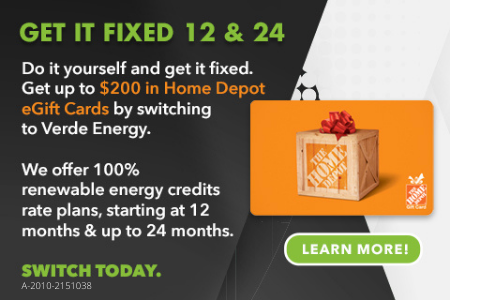 Get it Fixed 12 & 24 Energy Plan 
Selecting renewable energy is one of the most powerful ways to make a difference which can benefit you, your family and the environment. 
Enjoy $100 or $200 in digital Home Depot Gift Cards, by enrolling in a 100% renewable energy credits supply plan with a fixed rate for 12 or 24 months. Terms and conditions
Variable Energy Rate
You can find our variable price history in the below links
Give us a Try! For a 30 days after enrollment, you can cancel your Verde plan and we won't charge you any fees!